Do you know what's harder than trying to shop for a Father's Day gift? That's a trick question because the answer is: nothing! Am I right? As ladies, we tend to chat about our likes and dislikes and just hope that our loved ones hear us loud & clear. Men don't really do that as much so there is a lot of guess-work involved. Jewelry stores even have wish lists that we can fill to help out our husbands. No such thing exists for men, that I am aware of. Sometime you just have to throw something out there & see if it sticks. With that in mind, here are some cool ideas that your dad or husband may enjoy for their special day.
FOR THE DAD THAT HAS EVERYTHING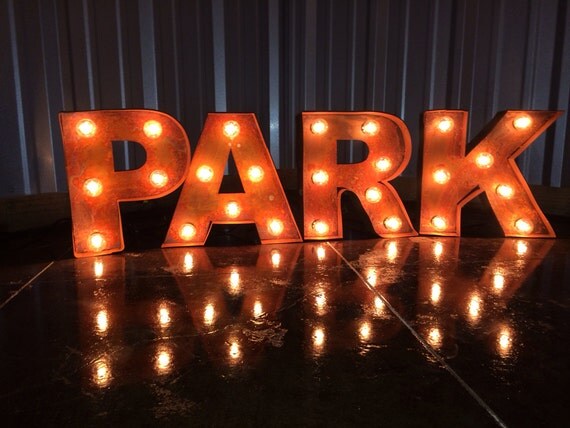 Metal and Lights:

Custom metal letters, signs, logos, and lights
These metal & lights signs are so popular right now & are popping up everywhere from wedding to events, even on Andy Cohen's show "Watch What Happens Live" on Bravo.
My husband & I recently purchased ones of these signs for a friend that was retiring & plans to spend his retirement working on old cars. The sign we had made said "Ed's Garage". Needless to say he LOVED it!
FOR THE DAD THAT LOVES TOOLS
If your dad doesn't have one of these, you can stop right here. This is your father's day gift. My husband uses ours to clean all sorts of things from the inside of the car to the dogs house (inside & out). It will suck up anything & is so easy to use. It even came in handy in our former house when we got
water in the basement. This one is a slam dunk!
FOR THE DAD THAT MAKES A MESS
Tilman Leather Bib Apron for Men (aka: Mapron)
My sister-in-law recently purchased this for her husband & I just fell in love with it. I cannot tell you the number of times that I have had to throw away a shirt that my husband was wearing because he spontaneously decided to do some sort of work in the garage. This is manly, sturdy and just awesome.
FOR THE DAD THAT IS A SUPERHERO
Act Tactical: Firearms, Fighting and Tactical Driving
Contact Act Tactical
Let's face it, women watch romantic comedies because they want to be the leading lady, swept off her feet & whisked away to some fabulous life. Men are no different except that they lean more towards James Bond or John Wayne for their role models. They want "The Last of the Mohicans", "Top Gun" and "Legends of the Fall" type hero status. You know I'm right :) So, what better way to make them feel like a bad-a** than by treating them to a tactical training class? The one I have listed above is in Georgia but I am certain you can find one in your area. I have also been told that many Sheriff departments hold similar classes that focus on safety and regulations. Let dad play hero for the day or, at the very least, let him say, "I can do that," and mean it, the next time "Mission Impossible" comes on.
Goodness, what can I tell you about my dad? Well, he is the dad to two daughters that didn't hesitate to talk about boys or clothes or nail polish growing up. He attended more beauty pageants, cheerleading tryouts and at-home fashion shows than he can probably count.
He absolutely did not understand why I wanted to head out to California as soon as I graduated from college but, when I returned at the end of the summer, admitted he thought it was pretty cool and brave.
Today, he is the person I can call anytime day or night. If we are talking on the phone while I am driving and I suddenly need to hang up, I can simply say, "gotta run" & hang up & he is totally cool with that. He loves surprising people, fine wine and Alabama football. He is never, EVER late, so I can say that I get that gene honestly. Not all women can say that they have a great relationship with their dad so I feel very lucky to call mine one of my best friends. Happy (early) Father's Day!